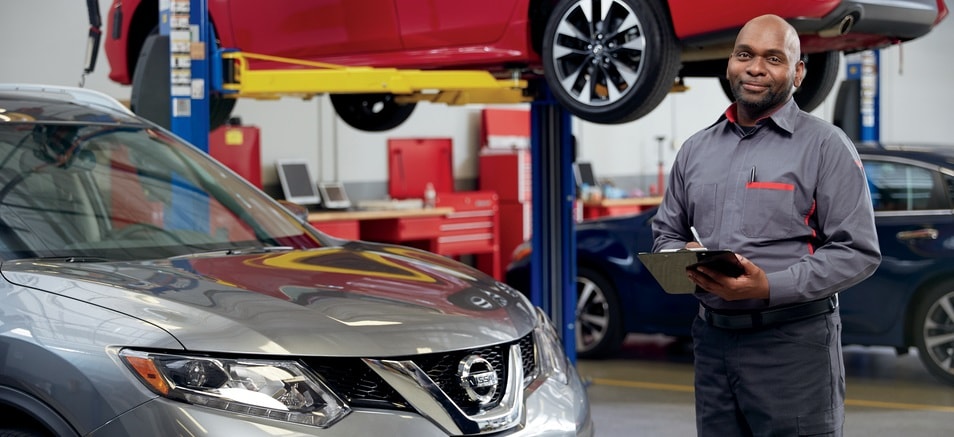 Buckeye Nissan Frequently Asked Service Questions 
Q: Do you offer service coupons and specials?
A: Yes, we do offer service coupons! You can find our service coupons on our website under Service Specials or by clicking here!
Q: Can I get my oil changed here? 
A: Yes, we offer oil changes at our service center! Visit our website to get your appointment scheduled online! 
Q: Can I schedule my service appointment online? 
A: You can schedule your service appointment online by visiting our website and selecting Schedule Service under the service tab. 
Q: What are your hours?
A: We are open Monday- Friday 7:00 AM- 6:00 PM, Saturday 7:00 AM- 4:00 PM, and we are closed on Sundays. We look forward to meeting you! 
Q: What services do you offer?
A: We offer many different services such as oil changes, brake repairs, tire repairs, and more. Visit us today or contact our service team to learn more, you can also click here to visit our service center online!
Q: Do you sell tires?
A: Yes, we do! Visit our website and click the Tire Store button under our Service tab to browse through our tire options. 
Q: Do you only service Nissan vehicles? 
A: No! At Buckeye Nissan, we service all makes and models.  
Q: How often should I get my Nissan serviced?
A: We recommend you get your Nissan serviced every 12,000 miles, or every 12 months, whichever comes first!
Q: How often should I get an oil change? 
 A: You should get your oil changed every 3,000- 5,000 miles or every six months, whichever comes first!
Q: May I bring any vehicle in for service?
A: We service all makes and models. In addition to servicing on-brand vehicles, we also service all non-brands to meet our customer needs.
Q: How can I prepare my car for winter?
A: There are many ways you can prepare your car for winter! First, you should have your tires, battery, and brakes inspected so you can drive safely on snowy or icy roads. It is also important to replace your washer fluid and engine antifreeze to prevent any freezing inside your vehicle. In a worst case scenario, it's also important to keep a roadside safety kit in your car! For more information or help with these services, contact our team today.
Q: Can you help me with my car's recall?
A: Yes, absolutely. To see if your vehicle has a recall, you can use our online tool. You can then contact our team to schedule a service appointment to see how we can help.